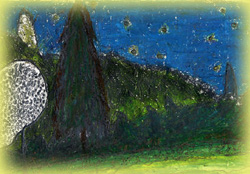 Aside from her jewelry, music, and writing, Lauren was always working on a visual art project. She loved working in collage and mixed media. Her journals are filled with oil-crayon sketches and pen and ink cartoons. She would often hide little drawings in my luggage or a book I was reading - I'd happily discover them in mid-flight or in some foreign hotel. Even a simple note to say she had gone for coffee was an opportunity for a piece of art. Each birthday and holiday I would receive some kind of strange mobile or collage - her friends report similar gifts: handmade postcards, paper jewelry boxes, and little paintings. In this section I've included roughly a dozen pictures that range from cartoons to paintings to collage.
Lauren spent her adult life around art as an artist herself, a figure model, and an enormous fan. She was fascinated with creativity and would talk about the philosophy behind it almost daily. She had a broad range of interests ranging from antiquity to the avant garde - she was particularly fond of Joseph Cornell's shadow-boxes and Alexander Calder's mobiles.

Click here to view images of Lauren's art.